USF FCU Supports USF With $1 Million Gift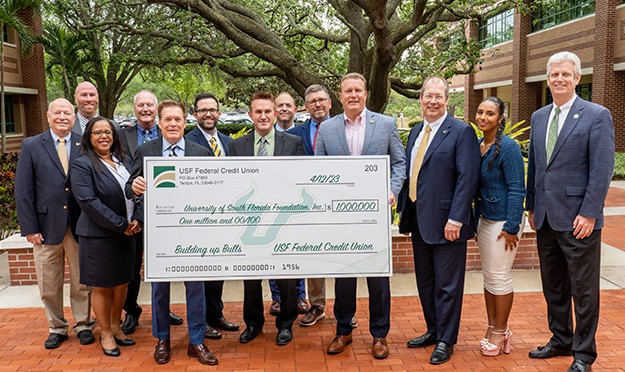 When the charter class of the University of South Florida began classes in 1960, only three of the original eight buildings were complete on the university's Tampa campus. Total enrollment that year was 1,997 students taught by 108 faculty members. Over the next 60 years, USF has flourished into one of Florida's top universities and a world-renowned research institution.
From its own beginning, USF Federal Credit Union (USF FCU) has existed to help the University of South Florida's faculty, staff, students, alumni and their families achieve financial security and success.
Established in 1959, just three years after the university's founding, USF FCU has grown from just $505 in assets then to more than $1 billion in assets today. Along with providing service to its more than 70,000 members, USF FCU supports a variety of organizations in the local community — including the university that shares its name.
Today, USF FCU is announcing more than $1 million in new support to USF through a combination of scholarship endowments and title sponsorships of signature events.
"The university is deeply grateful for USF Federal Credit Union's decades-long history of supporting our students, faculty and alumni through programming and scholarships across all campuses," said USF President Rhea Law. "This new gift continues our longstanding partnership and provides opportunities that will enhance the lives of our shared USF community."
This latest gift supports scholarships and student/alumni programming across the university, specifically the Alumni Association, USF Health, the Muma College of Business, the Sarasota-Manatee campus, Diversity Initiatives and Veterans Success.
"As a financial cooperative owned and controlled by our members, these gifts have been made possible by our members," said USF FCU CEO and President Rick Skaggs. "Supporting USF is just one way we live out our mission to give back to the community we serve."
Part of the USF FCU gift will establish four endowments to provide scholarships for students in the Latino Scholarship Program, Black Leadership Network and College of Nursing, as well as a first-of-its-kind scholarship for student veterans.
In addition, USF FCU has committed to serve as Title or Presenting Sponsor of 10 of USF's signature events — from the Sarasota-Manatee campus' Brunch on the Bay and the Alumni Association's Green and Gold Gala and Fast 56 Awards.
"This gift supports key priority areas inherent in both of our organizations' core values and will bring great benefit to USF students and alumni for years to come," said USF Foundation CEO Jay Stroman. "We are thankful to Rick and his USF FCU team for their steadfast support of our shared community."
USF FCU's $1 million will support:
Endowments
USF FCU Endowed Latino Scholarship
BLN/USF FCU Endowed Scholarship
One USF Veterans Scholarship (first of its kind)
USF FCU Endowed Nursing Scholarship
Sponsorships
Brunch on the Bay on the Sarasota-Manatee campus
Alumni Association Green and Gold Gala
Alumni Association Fast 56 Awards
Working Bulls Luncheon
Muma College of Business Scholarship Luncheon
Taneja College of Pharmacy White Coat Ceremony
Office of Diversity, Equity and Inclusion Inclusive Excellence Awards
LGBTQIA+ Lavender Graduation Ceremony
LGBTQIA+ Stonewall Suites Holiday Programming on the Tampa and St. Petersburg campuses
9-11 Memorial Event on the Sarasota-Manatee campus
New Grad Marketing Program
USF Federal Credit Union promotional flyer included with every graduation cap and gown
« Return to "Blog"