USF FCU Offers $205,000 in Scholarships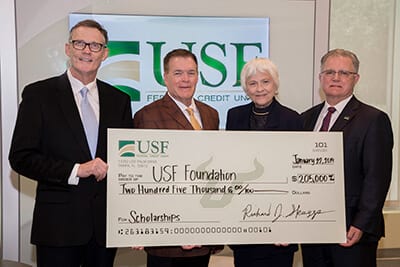 USF FCU is establishing new scholarships and expanding existing ones for a total of $205,000 that will support USF students studying many disciplines.
The gift will provide support for USF Health Research Day, as well as scholarships at USF Sarasota-Manatee, the Morsani College of Medicine, Biomedical-Engineering (a joint venture of the College of Engineering and the Morsani College of Medicine), and will support students in the Scholarly Excellence, Leadership Experiences, Collaborative Training program within USF's Morsani College of Medicine.
"For sixty years, USF students, faculty and staff have contributed greatly to the growth and success of the credit union," said USF FCU CEO and president Richard J. Skaggs. "It is an honor and a privilege to give back to the University through these scholarships. After all, supporting the educational advancement of future leaders is one of the best investments we could make." The scholarships are being created as USF FCU celebrates its 60th anniversary in 2019.
This most recent gift brings the USF FCU commitment to USF to over $825,000 for scholarships and programming throughout the University, including the Muma College of Business, USF Athletics, College of Education, Women in Leadership & Philanthropy, Morsani College of Medicine, USF World, College of Engineering, USF Sarasota-Manatee, and USF St. Petersburg making the overall impact of the USF FCU on the University's faculty and students remarkable.
USF Foundation CEO and Senior Vice President of University Advancement & Alumni Affairs, Joel D. Momberg shared, "These scholarships recognize the breadth and depth of talent throughout the USF System. Many more students will receive much-needed support as they pursue their academic goals and we are grateful for USF FCU's longstanding commitment to our students."
The five areas where scholarships are being established or expanded:
$50,000 – USF FCU Sarasota-Manatee Scholarship
$50,000 – USF FCU Bio-Engineering Scholarship
$50,000 – USF FCU SELECT Scholarship
$50,000 – USF FCU Scholarship to benefit the Morsani College of Medicine
$5,000 – USF Health Research Day
« Return to "Blog"